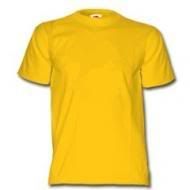 In Sweden, today is the day to wear Yellow.
The
troops
have been assembled by Peter Sunde (a.k.a. Brokep) from the famous torrent sharing site
PirateBay
.
In order to show support for the upcoming trial case, regarding the legality of hosting links to copyrighted material, they've asked supporters to wear yellow today.
The event was announced on their
group
in Facebook "Free The Pirate Bay" in "
wear yellow for sharing
" which is happening... today.
(And you can take a peek at
ThePirateBay
website to see they're taking it to the letter. ;)